Physics Professor BBQs for Flood Relief
Mon, 08/29/2016 - 9:18am
From August 19-20, Dr. Andy Hollerman (Professor of Physics) and his wife Lynn (Office of Information Systems) helped cook barbecue and related side dishes for persons displaced during the Great Flood of 2016.  The Hollermans volunteered their weekend as part of Operation BBQ Relief (OBR), which is a Kansas City based non-profit organization of contest cooks who provide meals for persons displaced by natural disasters.  As of Saturday, August 27, OBR has provided over 1,000,000 meals to affected persons in 19 states, since its founding in 2011.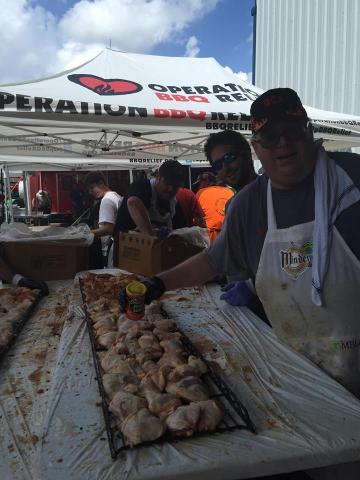 (Above: Picture of Dr. Andy Hollerman putting Daigle's rub (made locally in south Louisiana) on "several pieces of chicken.)
OBR has been operating a food preparation commissary at a school in Hammond, Louisiana for the period after the initial flash floods ended.  During the Hollerman's stay in Hammond, OBR provided food for more than 83,000 meals!  During this time, the Hollermans and more than 50 other cooks and friends helped prepare tons of chicken pieces, pork butts, and side dishes using commercial barbecue smokers.  This food was then delivered to numerous satellite locations all over south Louisiana.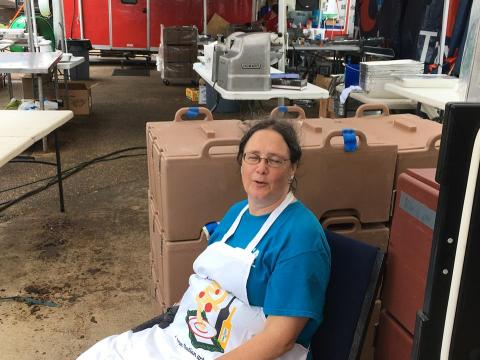 (Above: A tired Lynn Hollerman resting after preparing thousands of pieces of chicken.)
To date, the Hammond deployment for OBR is the largest in its history!  This is the second time the Hollermans have volunteered to deploy with OBR.  In 2011, the Hollermans were in a small group of cooks that were first at the scene for a deployment in Arabi, Louisiana after Hurricane Isaac.  During that 11 day deployment, OBR cooks prepared more than 55,000 meals. 
As a side note, Dr. Hollerman is also the elected President of the Barbecue Competitors Alliance (BCA), which is a non-profit organization that sanctions contests and teaches meat smoking techniques to the public. Lynn Hollerman is the Administrator for BCA.  During the Hammond deployment for OBR, many BCA cooks participated in preparing meals for our brethren in need.
Please visit https://operationbbqrelief.org/supporters/ if anyone would like to donate to OBR.